It doesn't take a lot of extra effort to get the most out of your Colorado hike. Hikes around Colorado can be a paradise for the newbie or experienced hiker alike. The grass, trees, and wildflowers are all around you. With a little luck, you might even spot some wildlife! Even snow-capped mountains are a distinct possibility.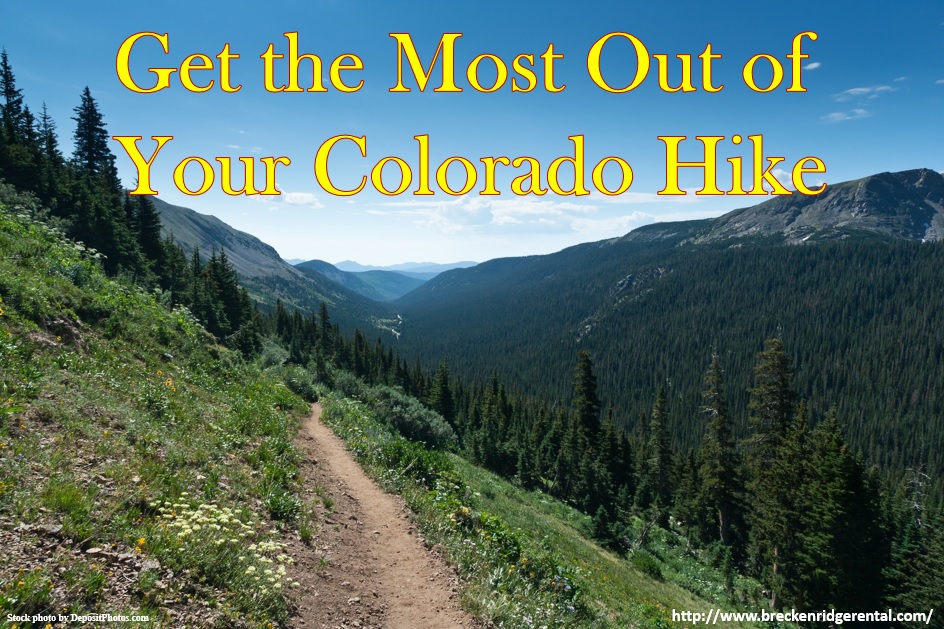 Hikes can start at any point, but let's get you started today right in Breckenridge. A day hike can start from nearly any point in town. And you'll only need three things to take with you – fuel, water, and layers. Actually, let's add a fourth item to that list – your camera! You are going to walk to capture the stunning views, wildflowers, and potential wildlife you'll see on the trail.
Make sure to start your day early because Breckenridge is known for its thunderstorms. You don't want to be stuck high up on a mountain during lightning. That's pretty scary stuff!
Once you've packed your three essentials and your camera, decide what type of hike you want to take. You can choose some easier options, such as Hoosier Pass Loop or Carter Park. Easier paths tend to be one to five miles in length with increases in altitude that you can handle, even if you're not used to the elevation in the area.
For those of you with more experience (or more gumption), try out a moderate Colorado hike like McCullough Gulch. While more challenging, these moderate hikes are still do-able by most everyone in the family. These are not always the longest routes, but the terrain and altitudes are more difficult than those doing the easy hikes.
If you really want to take up a challenge, give a more difficult Colorado hike a try! Wheeler National Recreation Trail is a great one. It's a long, challenging trail that peaks around 12,500 feet. While not for everyone, this hike will be enjoyed by those who want more out of their vacation to Breckenridge.
Once you've mastered your Colorado hike, stop by at your Breckenridge Rental lodging to get a great night's sleep! We have properties that let you experience nature and its amazing hiking trails when you step right out your back door. Book your next getaway today to take in all that Breckenridge has to offer!