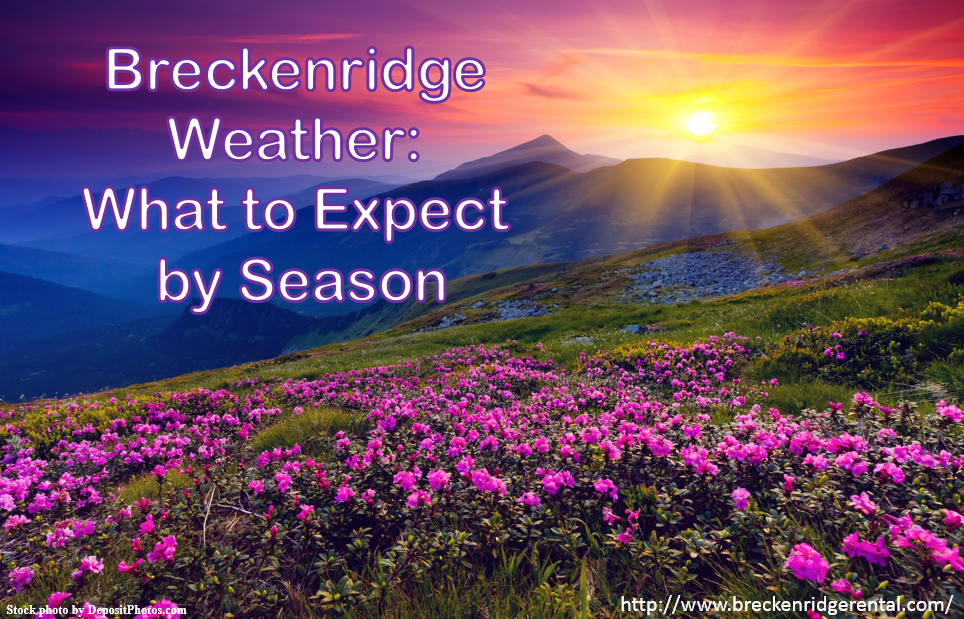 When you visit Breckenridge, particularly for the fist time, you might be unaware of what to expect as far as weather goes. Breckenridge weather varies with the seasons, and it can even vary during a single day! Below we will help you determine how to plan for your next trip based on the weather, which will also help you decide what to pack.
Winter
Breckenridge weather in the winter sees temperatures that average just below freezing, or roughly 28 degrees during the day. However, at night the temps often fall to 15 degrees. But with the sun beaming down on you during your daytime adventures, you may not even realize it's that chilly. If you're up on the mountains – whether skiing or hiking – make sure to protect yourself from the sun. Sunglasses and sunscreen are still needed, even in the cool winter months. Also make sure to be prepared for sudden changes in the weather. Breckenridge weather can be a bit unpredictable, so plan to dress in layers and get plenty of water to stay hydrated.
Summer
Summers in Breckenridge are full of sunshine and breathtaking wildlife and scenery views. With an average temperature of 70 degrees during the day, it's no wonder Breck in a popular travel destination – even during the summer months! The nights find the Breckenridge weather temps dropping to about 50 degrees. Just as we recommended for the winter months, make sure to dress in layers, put on that sunscreen, and stay hydrated. A hat may not even be a bad idea if you're hiking or biking through the mountains. Also be prepared for a quick rain shower at some point in the afternoon. It's a natural part of living in the mountains, but you'll want to make sure to pack a rain jacket to be fully prepared.
Fall & Spring
Breckenridge truly is a wonderful place to visit regardless of the time of year. During the months of October and May, the Breckenridge weather is in the mid-50s. You'll enjoy the same breathtaking mountain views, but without the crowds! Since this is considered the off season, many of the boutiques and restaurants have great deals running in their shops. While the weather may be a bit more unpredictable, you can certainly still enjoy many of the same outdoor activities you would during other parts of the year.
Regardless of which season you decide to visit us here, please keep the Breckenridge weather in mind while packing. We want to ensure you have a wonderful trip! We would also love to help you find your next home away from home. Let us here at Breckenridge Rental find your next vacation housing!