Whether you've got a long trip ahead of you on your way to Colorado or you're already here and getting ready for a fun-filled day – chances are you're going to get hungry at some point. That's why you need these easy travel snacks!
Here's a list of go to travel foods. When packaged, many of these of these easy travel snacks are simple to take with for a day on the slopes or hiking. But they also make easy travel snacks great to grab in the car. Whether you've got a load full of kids or just a couple adults, these ideas are sure to be a hit!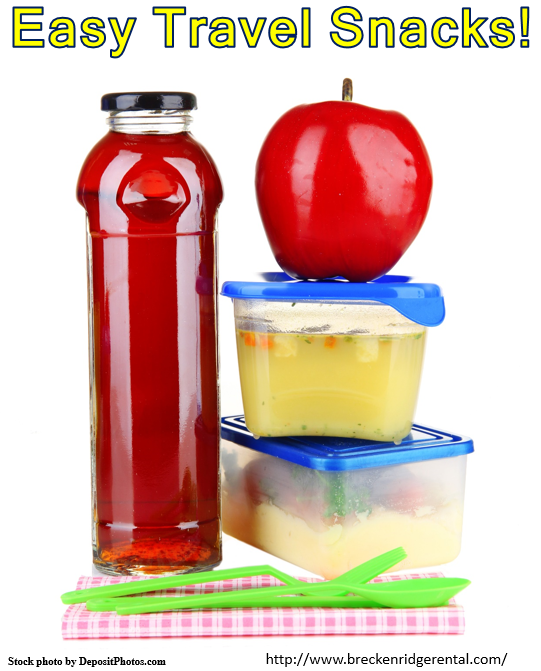 trail mix (a homemade concoction or store bought)
crackers (wheat, cheese, or any variety will do)
applesauce (store-bought containers or individual plastic containers)
granola bars or energy bars
frozen grapes (bonus – they can help keep the cooler colder!)
string cheese
pretzels
dried fruits and vegetables
fresh fruits and vegetables (pre-cut if needed)
rice krispie treats (homemade or pre-packaged)
fruit snacks
vanilla wafers
beef jerky
sunflower or pumpkin seeds
graham crackers or animal crackers
rice cakes
popcorn
cookies (homemade or store bought)
pita chips and hummus
cereal
nuts (if no one in your party has any nut allergies)
muffins
liquid or frozen yogurt in individual containers
fruit leather
peanut butter with items to dip in it (pack it like this for added convenience!)
sugar snap peas
veggie straws
Don't forget to pack drinks for everyone as well. While soda will do, it's also great to have along plenty of water, some sports drinks, and maybe even some milk. Those will help compliment your easy travel snacks!
You're going to love the Colorado mountains so much that you'll probably spend the entire day out and about having a great time! These easy travel snacks are going to be a lifesaver. When the day is done, make sure you've got a place to call home for the evening. Breckenridge Rental can help you find the perfect home away from home. Contact us today to help you find that place!