So you've decided to head to Colorado this winter season to enjoy skiing, snowboarding, and all that the wonderful snowy mountains have to offer. Congrats! You're going to love every minute of it! You're bringing your kids along? No problem! Obviously they'll be busy once they get here, but what about the car ride? This post is going to help you make the most out of your road trip!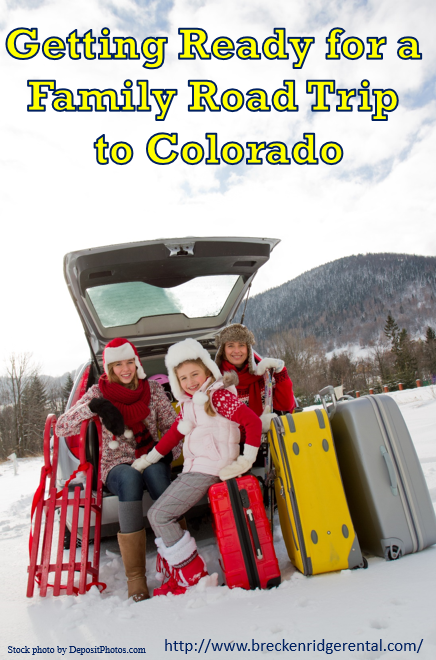 Before You Leave
Make sure you have all of the items necessary in case of an emergency. You don't want to be changing a flat in the middle of the night without a flashlight. Make sure the donut is filled up. Ensure you've had an oil change recently enough. Anything can go wrong when you're traveling, but when you add kids into the mix, it can make even a small problem into a bigger one. Try to alleviate your struggles before starting.
Get each of the kids their own travel pillow. You can make 'em or buy 'em, but hopefully all those little cherubs (yes, even the teenage ones!) will sleep at some point during your ride!
Start Packing
I'm not saying you should pack your bags, although that's an obvious step before you arrive in your Colorado destination. We're going to tell you about packing for the road trip itself!
You might want each child to have their own activity center. Maybe this is some type of hand held game, but it could also include crayons, DVDs, or books. Create little bags of different activities that you can pull out at different points during the road trip. If an item is new to your child, chances are they'll be entertained and not causing a fuss for at least a little bit! (No, we're not suggesting you go out and buy all new items!) When we say "new" we mean fresh. If it's an item your child hasn't seen in awhile, chances are they are going to love playing with it! With a little organization and thought ahead of time, you're kids will enjoy the road trip and so will your sanity!
Don't Forget the Snacks
There's not much worse than hungry kids on a road trip! Make sure to pack some snacks that are easy to eat on the road. While stopping for a brief picnic from time to time might help boost everyone's mood, you don't want to have to stop every time someone gets hungry. Some things to consider packing include:
cheese sticks
trail mix or nuts
individual applesauce
crackers
pretzels
fruits and veggies (with optional dips)
yogurt (try inserting a straw for easy consumption)
Plan Ahead for Boredom
Now hopefully you don't have to get into this little bag of tricks, but it's better to be prepared than not when taking kids on a road trip. You might want to bring along a cookie sheet with various magnets. You can even put magnetic pieces on a puzzle and let kids complete them that way! Maybe buy a new toy or two. Pull them out partway through the trip for that "new" effect!
Play a game together. We used to watch the license plates to see if we could find one from every state. Depending on how far your drive is, this might be fun for your children! Or even see how many different color cars you can see in a given time frame.
Do a quick online search before leaving home. There are a lot of free car trip printables. You will be able to find bingo games, word searches, and so much more!
Pack magazines. How often do your kids look through magazines? If you have a little sports fan, bring along the most recent Eastbay or even a copy of Sports Illustrated for Kids.
Do your kids love listening to you read to them at night? Bring along books on tape! Your local librarian will be able to help you find a story that's age-appropriate and the whole family with love.
Don't want to find the "are we there yet" questions? Print a map of your trip and let the kids follow along on the route!
Regardless of how far you're going to be traveling on your road trip, with these suggestions at hand – you'll be all set! Next stop? Your Breckenridge Rental home away from home. We hope you have a wonderful family vacation!