You don't have to visit Breckenridge to fall in love with it. Breckenridge captivates people at first glance through pictures alone.  The beautiful scenery, the outdoor adventure, and the historic downtown areas all make up a perfect getaway- one that for some, turns into a full-time residence. Just as beautiful are the Breckenridge vacation homes. And, while some sites offer vacation rentals, VRBO Breckenridge Rental is one of the best to find that perfect home away from home. Real owners rent out their homes so you can experience the slopes or the wonderful town of Breck while feeling like you are still in your own home.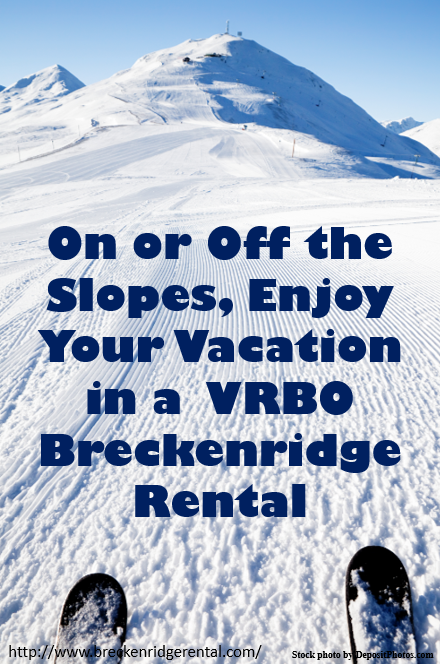 Of course, the main attraction in Breckenridge is the fresh powder skiing. Whether staying at a VRBO Breckenridge Rental ski side slope cabin or someplace in historic downtown, you'll find there is plenty to do on the slope as well as off.
The average snowfall in Breckenridge is 300 inches a year, and the weather is amazing; but, regardless it is important to have the right attire. So, just how do you dress for such a beautiful getaway? With the chilly and sometimes sun-drenched days, layering whether on the slopes or off is the best type of clothing for Breckenridge. And, aside from staying in your VRBO Breckenridge rental, there is plenty to do on or off the slopes.
Take a ride on the Imperial Express
Park and Pipe rider? Hit the Freeway!
Have professional portraits taken at the end of the season with EpicMix
Grab a bite to eat
Listen to live music at the base of Peak 8 (summer time)
Camp out or take in a ski lesson at the Breckenridge Ski and Snowboard School
Take a sleigh ride to Ten Mile Station to enjoy a starlight dinner
Pamper at the Rejuvenation Spa at One Skill Hill Place
It is not just the mountain that offers great entertainment and relaxation. Entertainment, adventure, and relaxation can be found everywhere- and, when you have the right VRBO Breckenridge vacation rental, your getaway is perfect. Come visit us for yourself.