While it is the place to play, ski, dine and wine; not to mention relax and enjoy, Breckenridge is not just for family and friends. It can be the perfect adult getaway as well. Start with a perfect vacation rental found on Breckenridge Rental. Then, take that perfect mate of yours and get ready for a vacation of a lifetime.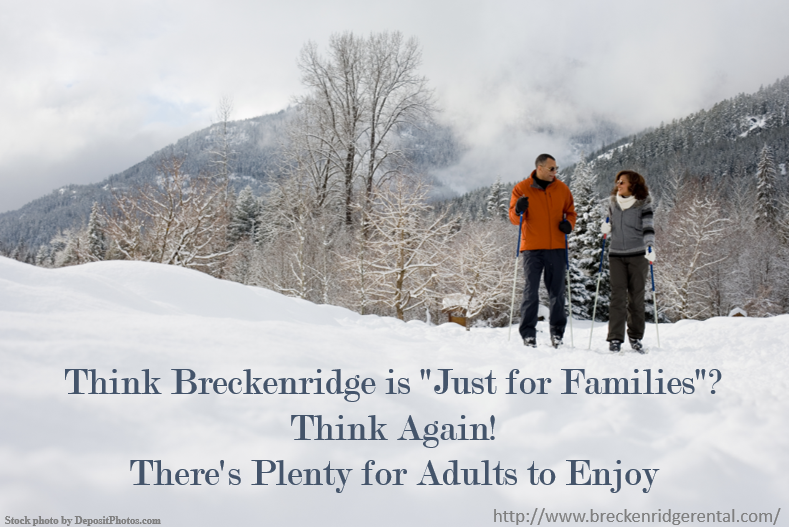 Breckenridge is filled with adventures! And with over 300 inches of snow each year and sun-drenched days, it is enjoyable year round. But, that aside, whether you plan on visiting in the summer or the winter, there will be adult entertainment to enjoy once you are off the slopes or the hiking trails.
Let's start with the Breckenridge condo. After all, you have to have the right accommodations to have the perfect vacation. At Breckenridge Rental, you will find everything from studios to condos to single family homes and everything in between. It is the spot to find just what you are looking for in vacation accommodations. Now that you know Breckenridge is the spot to find those cozy getaway accommodations, it is time to see just what is in store for the adults.
Crave the days of the Wild West? Learn about the town's historic saloon and visit the Breckenridge Distillery.
With over thirty bars and nightclubs, adults can listen to live music, hit endless happy hours, enjoy romantic lounges, or get crazy on the dance floors.
Take in a live play at the Breckenridge Backstage Theater.
What about taking a leisurely walk around this fine city? Or head out for hiking or bike riding during the summer months!
There are plenty of adult-only activities – including romantic night skiing (although there may be families on the slopes, as well!). Visit http://www.BreckenridgeRental.com for more information on accommodations in the Breckenridge area.