Think Breckenridge is only about skiing in the winter? Think again! With the glorious mountains in our backyard, you are sure to enjoy one of the most scenic hikes of your life when you visit. Between the wildflowers, wildlife, and mountains – you are sure to experience all the magnificent views of Breckenridge summer hiking! Teaming up with a guide – if you so choose – will also offer you the chance to learn about the local history, weather awareness, the high altitudes, and how we protect our mountain home. However, you can certainly take to the trails alone or with a friend or group!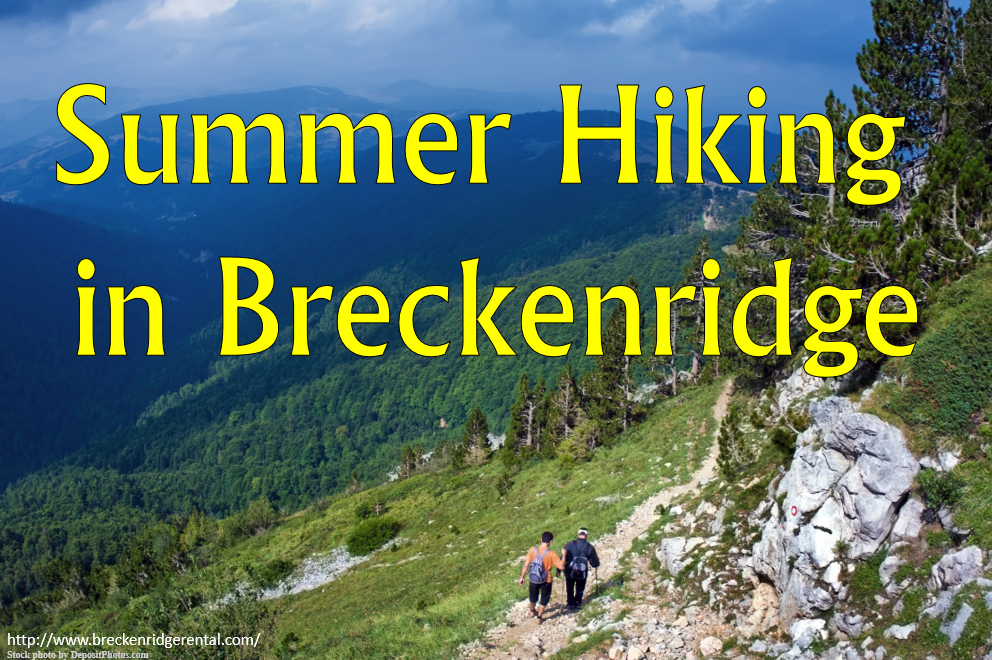 Every outdoor enthusiast will love our mountain paradise! We have breath-taking white-capped mountains and welcoming locals. The abundance of grass and trees, along with the copious amount of wildflowers, will make you slow down simply to take in all of nature's beauty as you enjoy your Breckenridge summer hiking.
Your hike can start from any of our vacation rentals or homes in the area. Once on your way, you will see why so many visit Breckenridge during the summer months. The sights and sounds of the trail will leave you wanting more, even when you haven't left yet.
While on your hike, make sure to keep your eyes and ears open. You will want to take in the many wildflowers in the area. See how many you can identify. Make sure to look down and around. Seeing animal tracks is a regular occurrence. With any luck, you might see see some deer, elk, moose or even a friendly fox.
Keep on eye on the vegetation. Many of the plants you are seeing are actually natural remedies that some use on a regular basis. However, others can be harmful – so make sure you can tell the difference before trying any!  Be especially careful with berries and mushrooms!
Make sure to take some time to simply stop and take in the wonderful Alpine views. We want you to experience all the wonder and awe with respect for our beautiful mountains. And please make sure to follow the "Leave No Trace" practices so Breck stays this amazing for future generations.
The number of trails you can try around the Breckenridge area are too numerous to mention. However, Hoosier Pass might be a good starting place for a novice. Experienced hikers would better enjoy Wheeler National Recreation Trail or Mohawk Lakes.
Regardless of the path you choose, we hope you enjoy your visit to Breckenridge and continue coming back for years to come!
Ready for a visit to enjoy Breckenridge summer hiking? If you want to spend the night or escape the heat with a weekend trip to the mountains, see http://www.BreckenridgeRental.com or http://www.BreckOnSale.com and save on your lodging!