Breckenridge and Vail are in great company as Ski.com announces the top 9 summer mountain destinations. Breckenridge, Vail, and seven other mountain areas were listed as "action-packed and fun-filled". We couldn't agree more! Snow isn't the only reason to visit the mountains of Colorado. Biking and hiking are great summer activities as well! The mountain resorts in the Breckenridge and Vail areas are some of the best in the world. With breathtaking views and many activities to choose from, either city is a great summer location spot! Keep reading to find out why these two cities should be on your list for summer mountain destinations.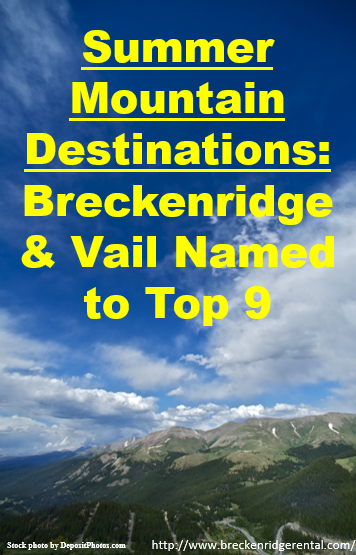 Here's just a few of the activities you can find to do in Breckenridge: mountain biking, ziplines, segways, hiking, waterslides, chairlift rides, 4×4 tours, mini golfing, rock wall climbing, gemstone panning, horseback riding, and more! To learn more about the summer opportunities offered in Breck, you can check out this website. Your favorite might end up being the Gold Runner Alpine Coaster or the Ten Mile Flyer Zipline. Both typically receives squeals of delight from their users. The Gold Runner travels over 2,500 feet, while the zipline travels at speeds up to 45 miles per hour. Want a more laid-back experience? Head to downtown Breckenridge and take a leisurely walk around the shops, enjoy a cool beverage, or experience some of our fine dining. No matter what you choose to do in Breck, you are sure to have a great time in this summer mountain destination!
Vail also has great summer activities! These include golfing, mountain biking, rafting, kayaking, fishing, playing tennis, or even going to the spa for some pampering. To find out more about the great summer options Vail has to offer, simply check out their website. Adventure Ridge is one of the most popular experiences to take part in when visiting Vail. It offers amazing views of Gore Range. After visiting the ridge, you can move onto disc golf and partake in the ropes course, which is quite challenging! After your visit, Vail is sure to be one of your all-time favorite summer mountain destinations!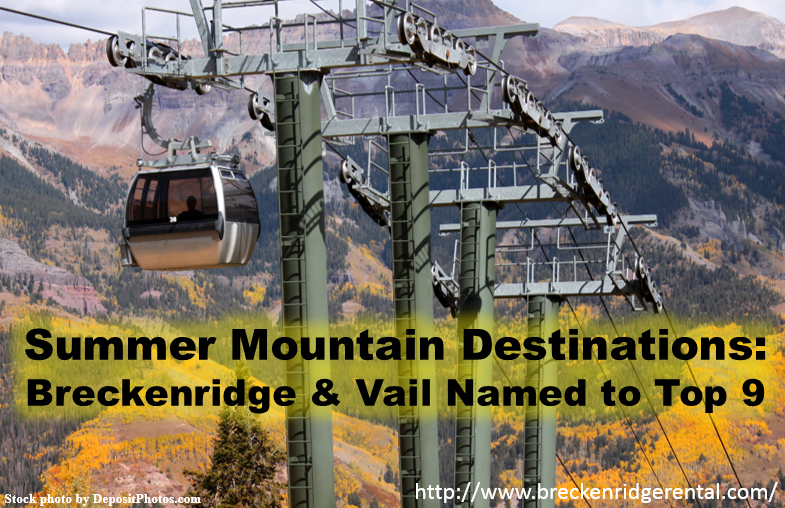 If you're unsure about what you want to do this summer, Breckenridge and Vail are both great places to visit. With so many options, you're sure to have a great time whether you want action-packed fun or a laid-back environment. Vacationing in the mountains in the summer is fun for individuals, couples, groups of friends, or the entire family! With so many great activities to choose from in both Breckenridge and Vail, you are sure to have a great mountain visit. Make sure we are your top summer mountain destination! And let Breckenridge Rental take care of the lodging once you decide which town to visit. We know you'll have a great time!